Wildlife Acoustics Named a Massachusetts Manufacturer of the Year
Maynard Business Honored at 6th Annual Manufacturing Award Ceremony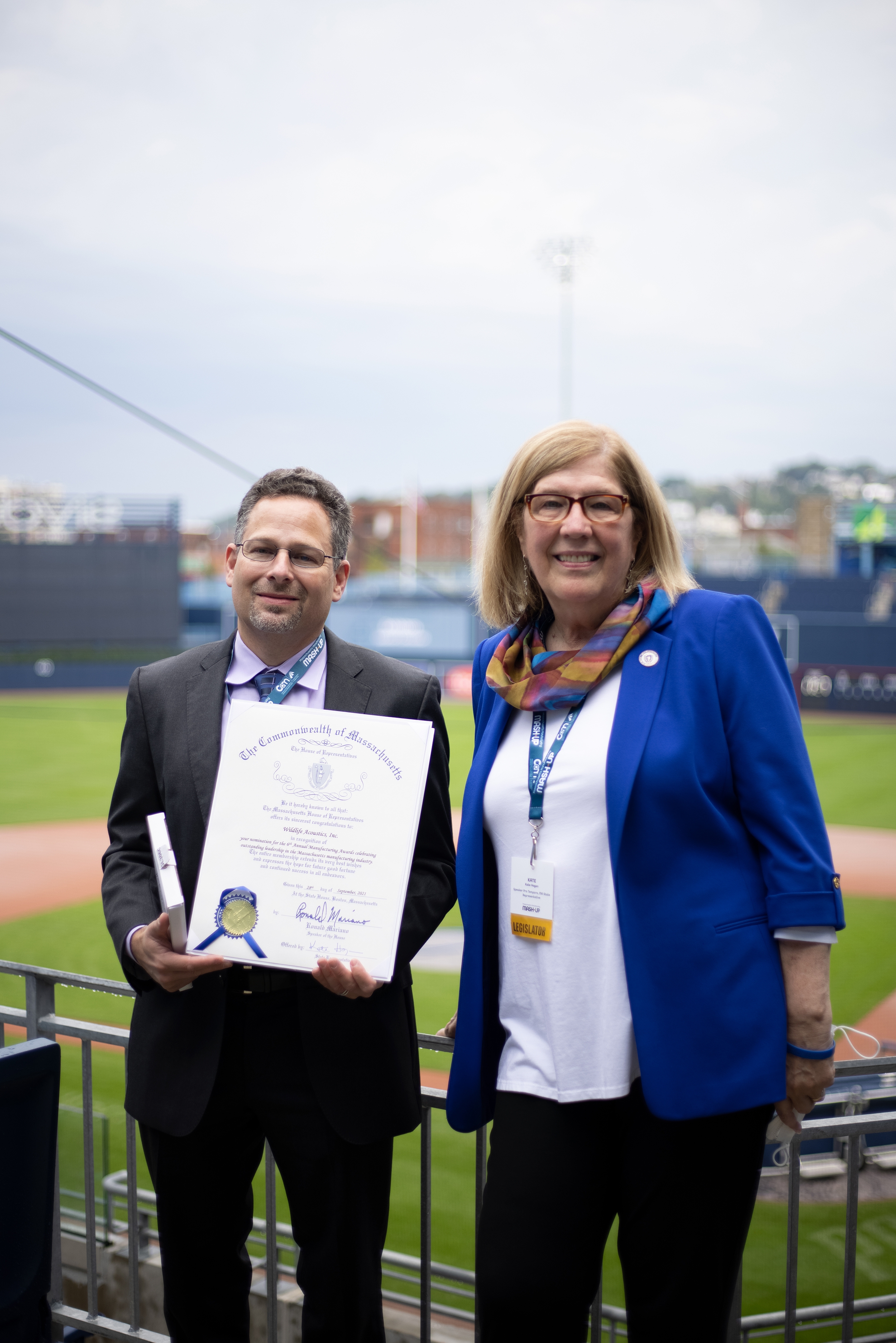 WORCESTER, MA, September 28, 2021 – Wildlife Acoustics, a global leader in professional wildlife audio recorders and analysis software, has been named Manufacturer of the Year by the Massachusetts Legislature's Manufacturing Caucus during it's 6th Annual Manufacturing Award Ceremony. The ceremony honored manufacturers from across the Commonwealth, showcasing their innovative and revolutionary manufacturing capabilities and products. Maynard-based Wildlife Acoustics was nominated for the honor by Representative Kate Hogan, who represents the 3rd Middlesex district.
"I was proud to nominate Wildlife Acoustics for the 6th Annual Manufacturing Awards this year," said Representative Kate Hogan. "Their story – of natural curiosity that led to the development of world-class professional wildlife acoustic monitoring systems – has caught the attention of so many, from wildlife enthusiasts spending more time in nature to scientists and wildlife professionals needing to monitor a rapidly changing world. Congratulations to Ian and his team on their achievements so far and best wishes for a bright future!"
Founded in 2003, Wildlife Acoustics creates acoustic monitoring tools, specially designed to help scientists make impactful discoveries. Sold to researchers across the globe and awarded to grant recipients through its quarterly grant program, Wildlife Acoustics' recorders and software are designed to help ecologists, government agencies, and citizen scientists to conduct ecosystem, biodiversity or soundscape monitoring, environmental impact assessments, animal behaviour studies, species conservation monitoring, and more.
"It's an honor for Wildlife Acoustics to be nominated for the Manufacturer of the Year Award," said Ian Agranat, Founder and CEO of Wildlife Acoustics. "This company began in my backyard, and with continuous hard work and smart, dedicated people, we have grown it into the leading supplier of professional wildlife acoustic monitoring systems, servicing research teams from the forests of Massachusetts to the fields of Madagascar. I could not be prouder of our team and their exceptional work."
Research projects that have relied on Wildlife Acoustics products include a study by Ryan Lynch of the Third Millennium Alliance that rediscovered the once-thought extinct Tandayapa Andean Toad in northwest Ecuador, an impact assessment by Stantec of windfarms on bats from Maine to California, and a biodiversity study by IPBio-Biodiversity Research Institute of Sao Paulo of canopy birds in Brazil's Atlantic Forest.
To learn more about Wildlife Acoustics, please visit wildlifeacoustics.com
About The Massachusetts Legislature's Manufacturing
Formed in August 2014, the Manufacturing Caucus includes more than 60 legislators from around the Commonwealth. Lawmakers focus on training for manufacturing employees; encouraging innovation by helping start-ups access resources; and expanding apprenticeship opportunities in key manufacturing sectors.
About Wildlife Acoustics
Wildlife Acoustics is a leader in bioacoustics monitoring technology for scientists, researchers, and government agencies across the globe. Founded in 2003 and headquartered in Maynard, MA, Wildlife Acoustics creates recorders and analysis software to help study birds, bats, frogs, and other vocal wildlife. Learn more at wildlifeacoustics.com.
###