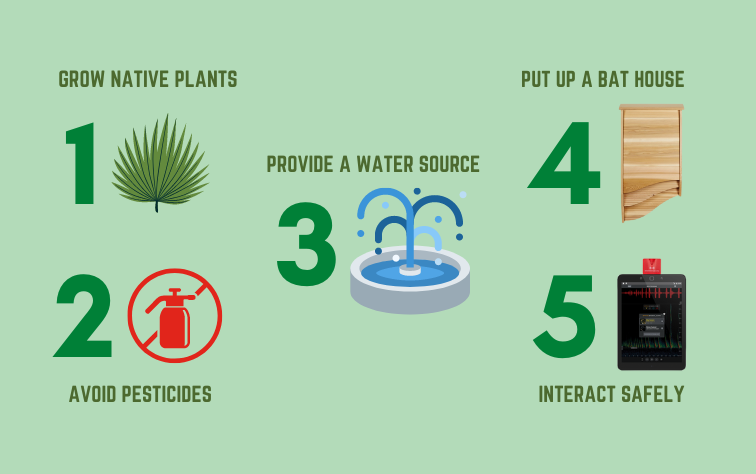 Bats are truly intriguing creatures. As the only family of winged mammals in the world that are capable of true flight, it's no wonder bats are the object of fascination for so many.
If you're interested in learning how to attract bats to your backyard, there are a few things you can do to present an inviting environment. Here are five ways you can create a welcoming space for bats (and detect them without disruption using our Echo Meter Touch 2 for Android)!

1. Grow native plants
A flowering backyard garden that's full of native plants is so much more than just a lovely sight. Rich in pollen and nectar, native plants attract insects that will help to entice hungry, bug-eating bats to your garden.
Because bats are nocturnal and catch night-flying insects, it's vital to plant accordingly and include flowers that stay open at night or bloom in the evening, according to Bat Conservation International.
If you're new to native plant gardening, you'll need to do a little research to find out which plant species are native to your area. This resource can help!
2. Avoid pesticides
There's no way around it – studies show that pesticides are harmful to bats.
Luckily, bug-eating bats are a natural pest control alternative. As predators to many common garden pests, bat prey includes moths, cucumber beetles, stink bugs, Japanese beetles, potato beetles and mosquitoes.
In fact, a single bat can catch up to 1,000 mosquito-size insects an hour, according to Merlin Tuttle's Bat Conservation! So a pesticide-free backyard is not only a good way to attract bats, but also good for the environment.
3. Provide a water source
While having a reliable water source is vital for bats to survive, it must meet certain criteria to be useful.
Bats obtain water by swooping down to a water surface, taking a drink, and flying back up and away from the water. Therefore, bats need an unobstructed "swoop zone" to safely retrieve water, according to Bat Conservation International.
Large, open water sources without obstructions like tree branches, fencing or wires are necessary for bats to maneuver safely.
4. Hang a bat house
Putting a bat house in your backyard is a great way to make bats feel at home to raise their pups and avoid predators.
If you're looking for a good option, BatBnb bat houses are recommended by leading bat biologists. Built from sustainably sourced cedar, the bat houses provide interior spaces that mimic a natural habitat while capturing heat from direct sunlight.
Your bat house should receive at least six hours of direct sunlight every day, while in cooler climates, even more sunlight will be necessary.
To maximize the chances that a bat will take up a residency, carefully select the location of your bat house. Ideally, bat houses should be attached to a building structure at 15-20 feet with no overhangs, balconies, or roofs blocking the path beneath the bat house.
Locations like the side of a house, barn, or shed are usually the best option to attract bats to your bat house. . Avoid mounting your bat house to trees, as they often offer limited sun exposure and allow predators (mostly owls) to perch on nearby branches. If a tree is your only option, select a sunny spot that's as far from potential predator perches as possible.
5. Interact safely
When bats make a home in your bat house, there's no doubt you'll be curious about your new backyard buddies. While bats generally avoid people – and rabies from bats is extremely rare with an average of one to two cases reported annually in the U.S. and Canada – only trained professionals should handle bats.
However, there is a safer way you can have an interactive experience and learn more about these fuzzy, flying mammals without creating a disturbance. With an Echo Meter Touch 2, you can turn your smartphone or tablet into a bat detector, which will allow you to see and hear the ultrasonic sounds of your backyard bats.
The app will identify the most likely bat species according to the bat call, and even provide you with more information of the species detected. Currently, the app can identify bat species from North America, the Neotropics, the U.K., Europe and South Africa.
Want to learn more?
Get more tips on how to attract bats from the BatBnb website, or find out how to monitor your backyard back activity with the Echo Meter Touch 2!