Bioacoustics recording involves using some sort of hardware device to make digital audio recordings (WAV files) of bats, birds, or whatever critter that happens to be near the microphone. When a recorder is placed in the field without a human present, this is known as unattended recording. Using this method, it's possible to set a recording device up to run in record mode continuously for long-term deployment. However, this can be an inefficient way to work. Continuous recording will use up memory space and battery life quickly. In many cases, using scheduled recording may provide a better solution.
Benefits of using recording schedules
If the species you want to capture is only active during the day, there is no need to record at night. Perhaps the species you want to record is only present at dusk and sunrise. Or, maybe youâd like to do timed recording such as ten minutes each hour or maybe only record every other day to maximize deployment time. You may even want to deploy your recorder but delay the start of the record schedule until a future date. Using recording schedules can save not only battery and memory card resources, but also hours of analysis time by ensuring you only record when you need to.
Fortunately, with the Song Meter series of recorders from Wildlife Acoustics, sophisticated recording schedules are easy to configure.
Two ways to set recording schedules
There are two ways to set Recording Schedules. Schedules can be created either from the front panel of the Song Meter or via the free SM4 Configurator software. We recommend using the configurator whenever possible, and we'll explain the process below.
Using the SM4 configurator to create schedules
The first thing to know is that you can set a daily repeating schedule or an advanced schedule that does different things on different days. The Schedule Mode is available under the Settings section in SM4 Configurator.
Daily Schedules are very simple to set up and use. In fact, it can be as easy as selecting one of the "Quickstart" schedules from the front panel of the Song Meter or from within the SM4 Configurator. These are commonly used schedules that are already available in the Song Meter.
Here are the Quickstart schedule options:
Below is a breakdown of the "Record Dawn and Dusk schedule" to give you an example of what this daily schedule would look like if you were to create it yourself: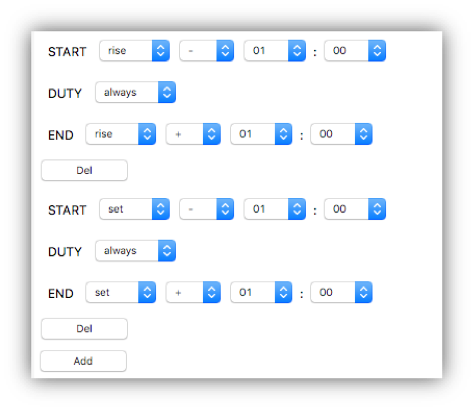 What you see here are actually two "Schedule Blocks." The first schedule block is set to start recording one hour before sunrise and stop recording one hour after sunrise.
The second schedule block starts to record one hour before sunset and then stops recording one hour after sunset. As long as you program the correct date and GPS coordinates, the Song Meter is able to determine the correct changing sunrise and sunset times. And just so you are 100% sure what the recording schedule is, there is a calendar display in the configurator that provides a visual representation of the record times:

The light purple coloured region represents nighttime, the yellow represents daytime, and the black bars show when the recorder is recording. In the configurator software there is also a place for you to enter your battery and card information. This allows the configurator to give you an estimate of when your battery and cards will need to be changed, and would be indicated by red or dark purple markings respectively.
Delayed Start
Let's say that you need to deploy your recorder on a certain date, but you donât need it to begin recording until 2 weeks later.
If you would like to delay the start of your Daily Schedule, that can also be configured under Settings:

Daily Schedules vs Advanced Schedules
A Daily Schedule like the one in the example above repeats the same schedule every day until the batteries die or memory cards are full. If you'd like to create a more sophisticated schedule that doesnât do the same thing every day, you can use an Advanced Schedule.
Below is an example of an Advanced Schedule. In this schedule, the recorder is programmed to start recording 30 minutes before sunset and then make one-hour recordings until 30 minutes after sunrise. This schedule will repeat for seven nights and the recorder will go to sleep for twenty-one days. After twenty-one days the recorder will wake up and repeat the seven-night schedule. It will repeat the seven night-on, twenty-one night-off pattern until the batteries die or the memory cards are full: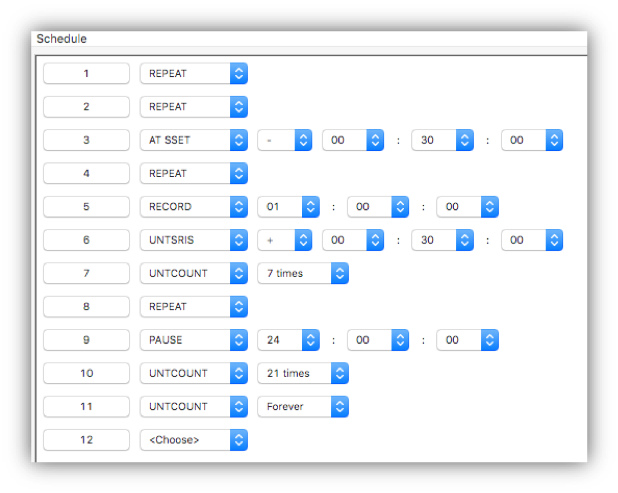 Considerations
As you can see, the possibilities for recording schedules are nearly endless.
If you are not sure about what schedule would best suit your needs, here are some things to think about with respect to your project:
Timing of vocal activity to be recorded
How often can you return to your field site to change batteries/SD cards?
Will you need to deploy the recorder well before the recording start date?
Will your settings be the same every day, or will you need to record with different settings on different days?
Because the configurator software can give you a rough estimate of your battery life expectancy and SD card capacity based on your unique schedule, we recommend that you download the configurator and try different scenarios for yourself.
If you'd like to learn more about the details of programming Daily and Advanced recording schedules with the Song Meter recorders, we invite you to check out the tutorial movies at our website and YouTube channel.
Want to see examples of real-life projects utilizing unattended monitoring? Check out our Customer Case Studies and Grant Recipient Field Stories.
Happy recording!